A SUSTAINABLE FESTIVOIX
For over 15 years, FestiVoix has been actively involved in sustainable development, a true philosophy of life for the organization, through the implementation of environmental, social and economic actions marked by innovation and consultation, as part of its sustainable development plan in collaboration with Kruger.

The many initiatives implemented by FestiVoix since 2007 have been recognized on numerous occasions over the years at both regional and national levels (9 Vivats awards, 4 Excellence Tourisme awards and 1 Sustainable Development Initiatives award at the Edis Gala). FestiVoix has also been awarded the highest sustainable development certification in the city of Trois-Rivières by the Fondation TroisRivières Durable in 2022, as well as Level 3 Classification of the BNQ-9700-253 standard for responsible event management in 2023.
CONSULT OUR SUSTAINABLE DEVELOPMENT POLICY >>
Environnemental
Social
Economic
environmental aspect
Want to help make the FestiVoix even greener?
Here are a few gestures that can make a big difference:

Use public transit and the STTR and Corporation de transports collectifs de la MRC de Maskinongé shuttle service to get to our sites! Find out more >
If you're coming by car, consider carpooling!
Ride your bike and use our Laferté Bicycles park for free! Find out more >
Take our electric shuttles and Gérard Milette bike cabs to get from stage to stage! Find out more >
Sort your waste in our recycling bins
Limit the use of disposable products
Opt for the mobile application to limit paper! Download the app >
Use our ecological glasses and water bike stations
Offset your GHG emissions with Éclore!!
ALTERNATIVE WAYS TO GET AROUND WITHOUT POLLUTING
STTR public transit offered free of charge during FestiVoix Details >
STTR shuttle service available at a cost of $2 per trip (Over 7833 festival-goers transported in 2023 by STTR shuttles) Details >
Corporation de transports collectifs de la MRC de Maskinongé shuttle service available at a cost of $2 per trip Details >
8 Milette Portes et Fenêtres bike cabs for easy stage-to-stage transportation Details >
A free Laferté Bicycles park located near the main site entrances Details >
2 free electric shuttles near site entrances Details >
Pedestrian site downtown, 6 streets completely closed to motorists for 9 day
100% ecological means of transport for our teams! 16 electric vehicles and 5 bicycles are used to get around the festival site.
TO REDUCE OUR ECOLOGICAL FOOTPRINT
Paid sorting squad to optimize waste recycling
5.38 tonnes of waste and materials recycled in 2023
65,592 cans 100% recycled in 2023
657 bottles of wine recycled in 2022
2,440 liters of water distributed at the 2 Voilà.Shop Vél'eau water stations in 2023 (equivalent to 4,880 unused 250-ml plastic bottles)
0.88 tonnes of banners recycled for a second life at Maison Tradition
Composting system introduced for food concessions, volunteer cafeteria, artists' dressing rooms, Club FestiVoix Desjardins and Groupe Somavrac dressing rooms
Installation of 35 ashtrays on all outdoor sites to recycle cigarette butts, in association with the Mégot ZÉRO program in 2023.
Replacement of all single-use plastic glasses used in SAQ Bistros and bars at all outdoor sites with reusable glasses (13,266 reusable glasses used in 2023)
Use of 100% recyclable aluminum cans and plastic bottles on sites
Reusable water bottles for volunteers and employees
Reduction of printed material with the withdrawal of 190,000 copies of the paper brochure and plastic card passports
Water dispensers in artists' dressing rooms and for teams and volunteer
Use of reusable crockery and utensils for all cafeteria meals
Redistribution of surplus food to community organizations in the Mauricie region
Nearly 90% of facilities powered by hydroelectricity
SIGNIFICANT LOCAL INVOLVEMENT
Offsetting all GHGs generated by the event and artists' travel via Éclore's Voluntary Carbon Market platform.
Financial partner of Environnement Mauricie's Sous les pavés initiative, aimed at reducing urban heat islands through green school landscaping
Donation and sponsorship of the Red Mill peat bog
Trees and shrubs planted at Saint-Philippe elementary school as part of Environnement Mauricie's Sous les pavés project.
AWARENESS-RAISING CAMPAIGNS
Creation of a green alley dedicated to sustainable development in the FestiVoix courtyard to raise awareness among festival-goers of sustainable practices and reduce urban heat islands.
Awareness-raising videos shared on all FestiVoix platforms thanks to financial support from Éclore's GHG emissions reduction awareness support program.
Encourage festival-goers, teams, media, concessions and artisans to offset their carbon footprint via the environmental fund of the Éclore Trois-Rivières platform Make a donation >
Awareness campaigns and promotion of eco-responsible practices among festival-goers
Raising awareness among partners, suppliers and food concessions about the use of eco-friendly materials and efficient recycling.
Raising children's awareness of ecology through art via 12 cultural mediation workshops focusing on sustainable development
Green Squad circulating among festival-goers, offering sound advice
GRIP staff on site during the weekends of the event and inform festival-goers on how to adopt lower-risk behaviours, not only with regard to consumption consumption, but also sexuality and sexual violence. sexual violence
Children's playground created with recycled materials at the RONA Family Island on Île Saint-Quentin
Clear signage and displays on sorting and recycling at FestiVoix sites
The various awareness-raising and mediation operations planned for 2023 are made possible thanks to the financial support of Éclore fonds environnement Trois-Rivières.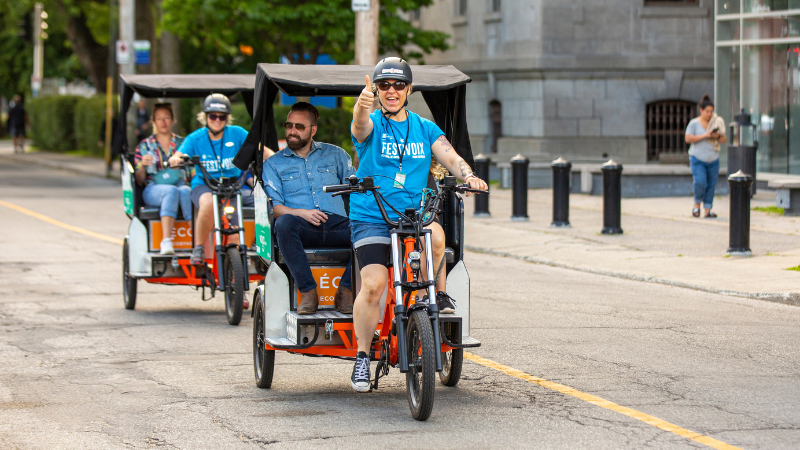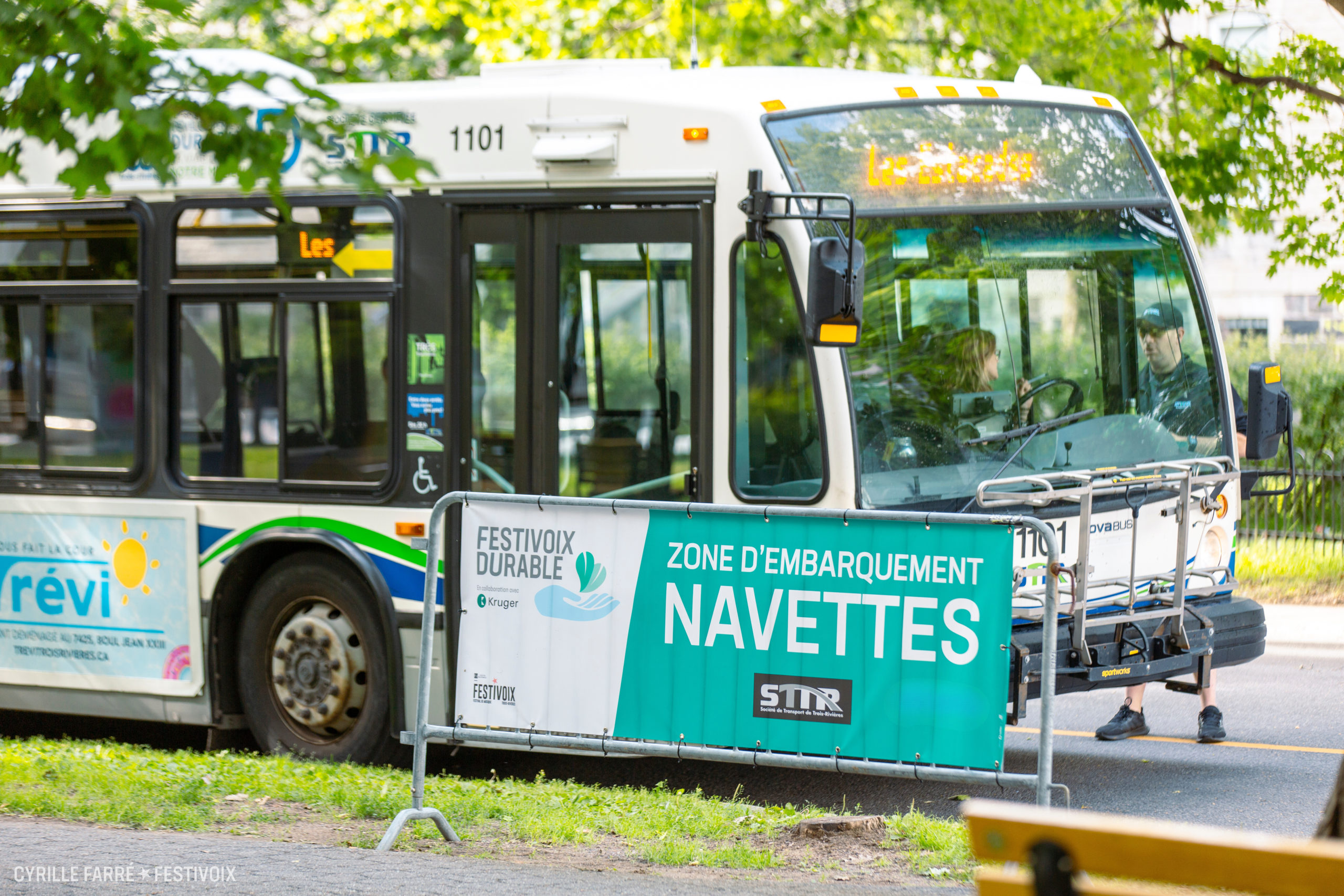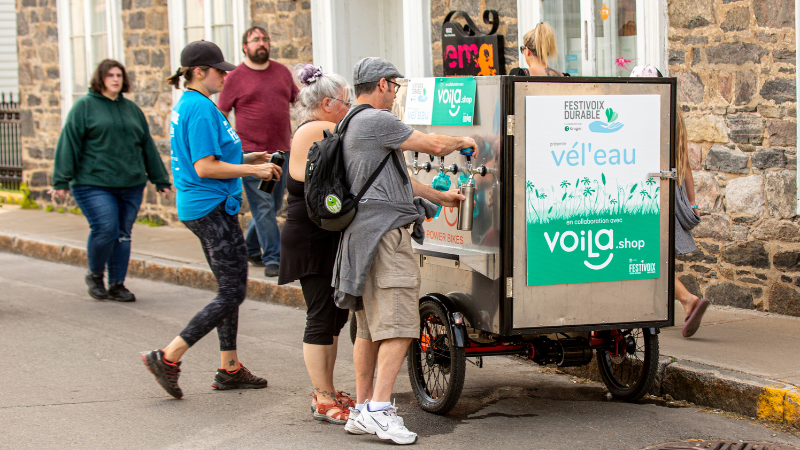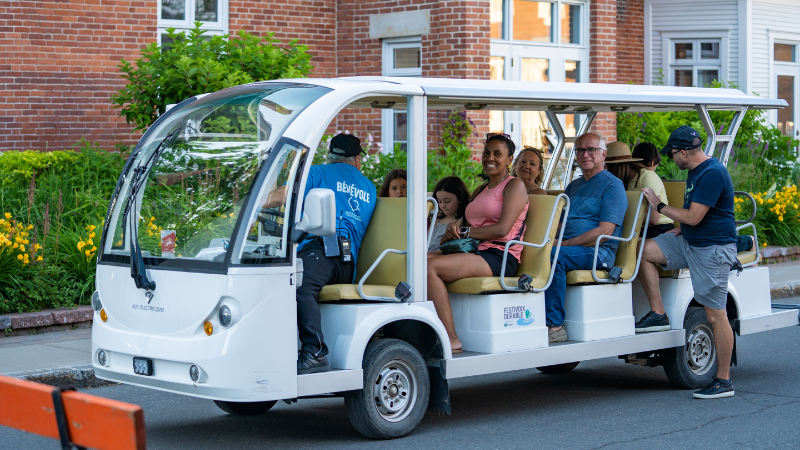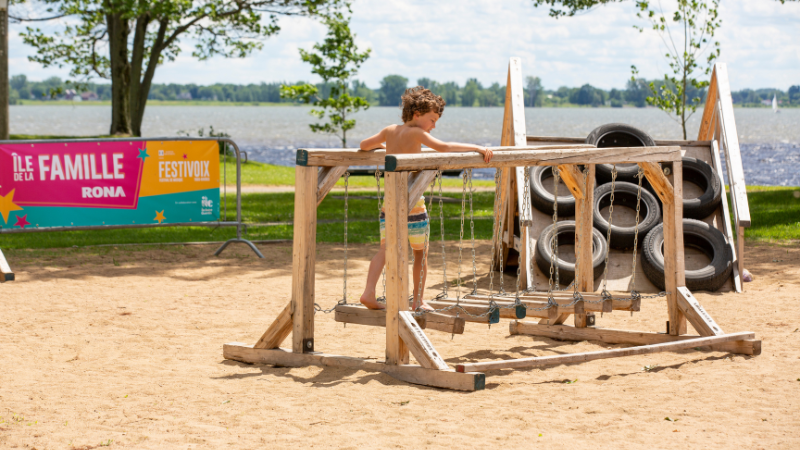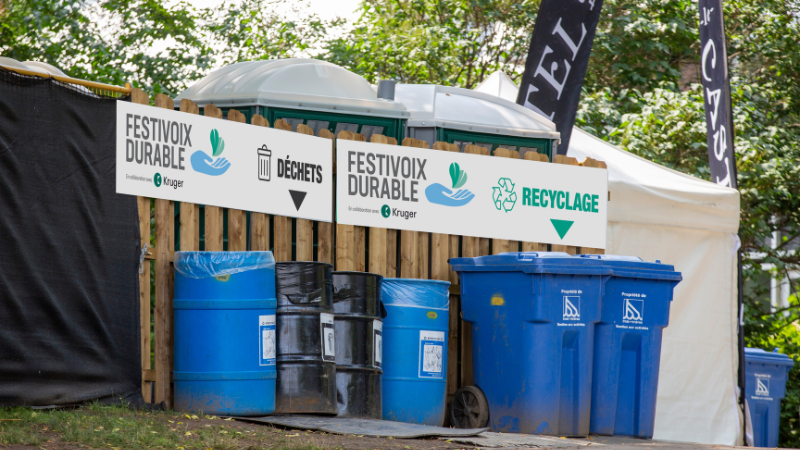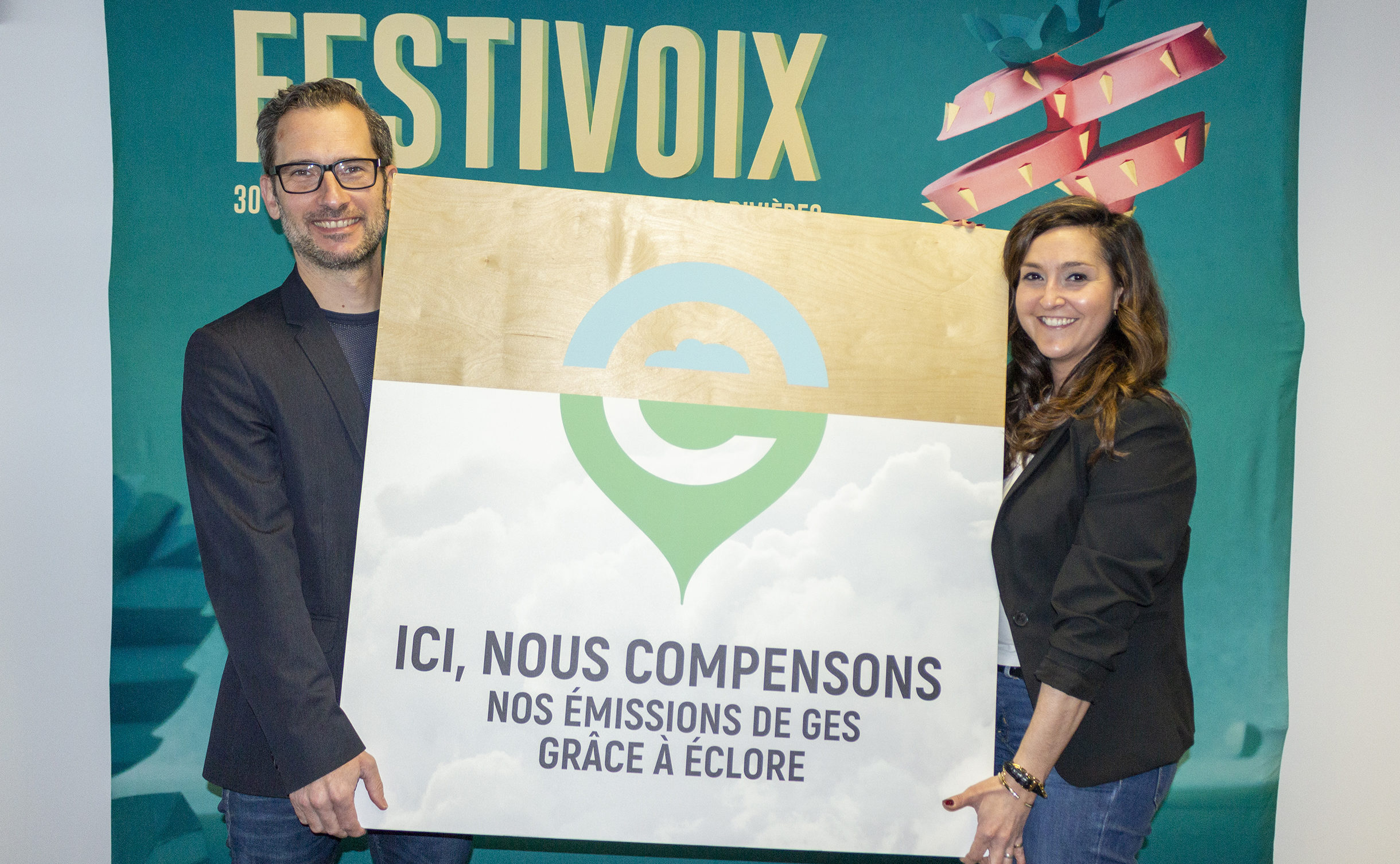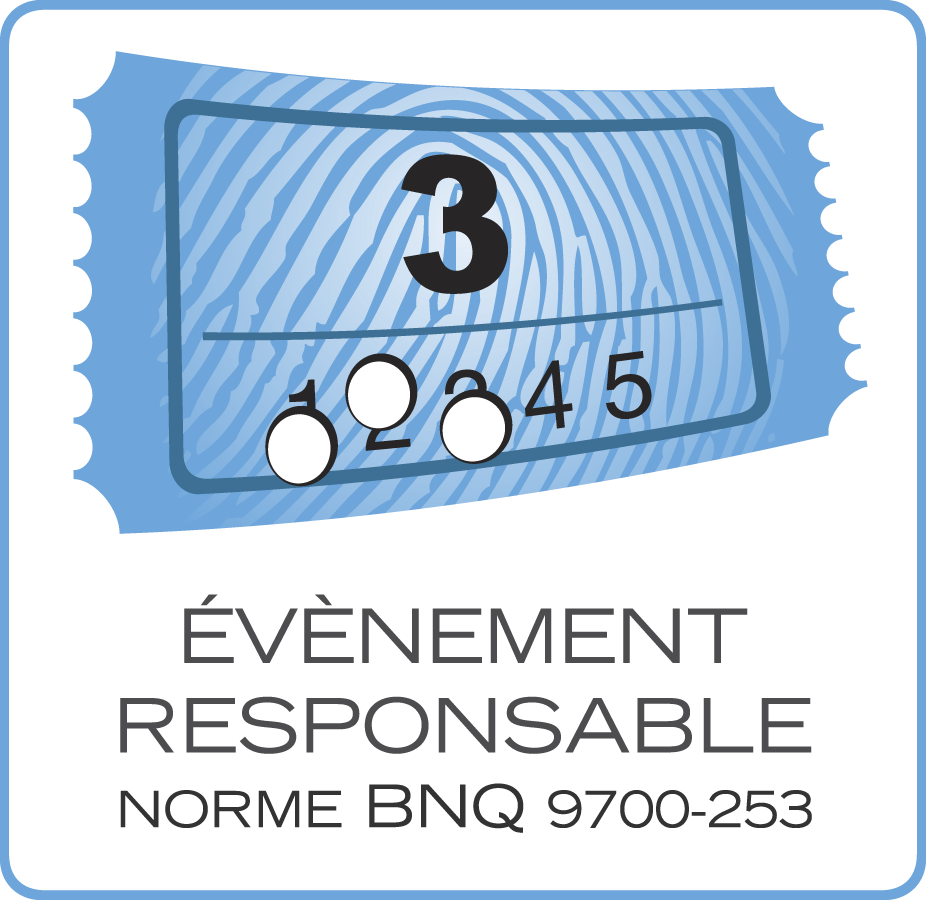 SOCIAL ASPECTS
ACCESSIBLE TO ALL

Nearly 1/3 of shows free of charge
38 free performances in 2023
Accessible pricing policy
Passport for $79, giving access to over 100 shows

Free admission for children aged 10 and under
Free concerts offered in CHSLDs and residences for people unable to move about. Details>
Diverse line-up for all tastes, with over 100 shows on 15 stages for all audiences
Reserved areas for festival-goers with reduced mobility on the various sites  Details>
Free access to the FestiVoix site for companions of festival-goers with reduced mobility Details>
AT THE HEART OF THE COMMUNITY
57,500 in ticket donations to local charities and community organizations in 2023
30,846 in fundraising donated to the Fonds Gilles Rousseau de la Fondation Santé Trois-Rivières, Marché volontaire d'Éclore fonds environnement and many others in 2023
Redistribution of all unserved meals in the volunteer cafeteria at Centre Le Havre
Loans, exchanges and agreements with community organizations
Collaborative projects  with various Trois-Rivières tourism and cultural organizations
CULTURAL PROMOTION
Promotion of Francophone song
85 Francophone concerts by 2023
Promotion of up-and-coming musicians
More than a third of the artists are from the the region in 2023 line-up
Cultural mediation projects in schools  with artists from the Mauricie region, including QW4RTZ, Verlene and Fabiola Toupin with École primaire Sainte-Thérèse and École secondaire Chavigny
Production and broadcast of a Christmas documentary as part of a cultural mediation process initiated by the the organization with Fabiola Toupin and francisation classes from Sainte-Thérèse elementary school in Trois-Rivières
Cultural mediation workshops for young people focusing on sustainable development as part of the RONA Family Island program
Partner of the Le Festif! À l'École initiative in Mauricie schools (Félix Leclerc, Pointe-du-Lac and Jacques Hétu)
Partner of the IllumiNATION show, a special program designed to showcase Canadian talent, presented nationally on Rogers TV and OMNI Television in Ottawa
FestiVoix employee conferences in high schools, colleges and universities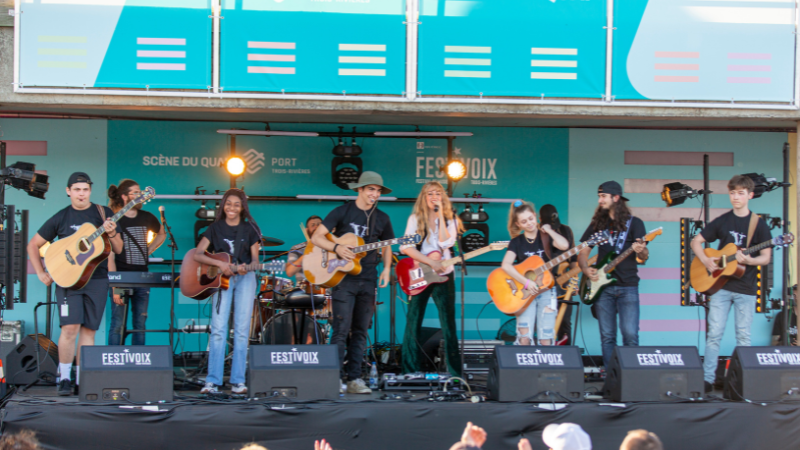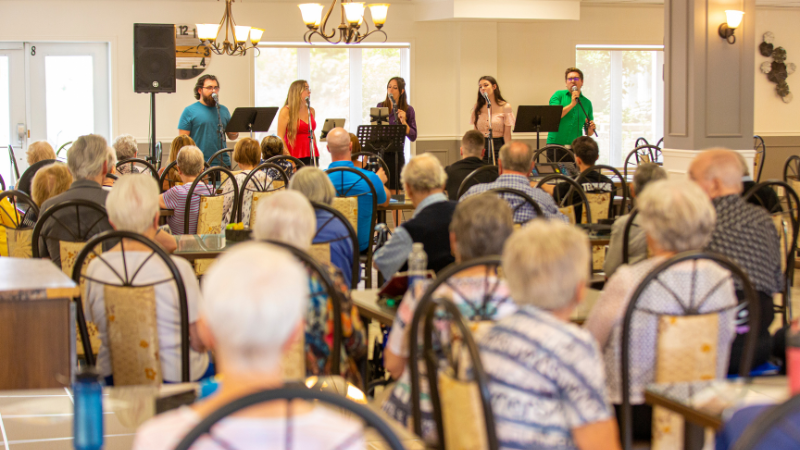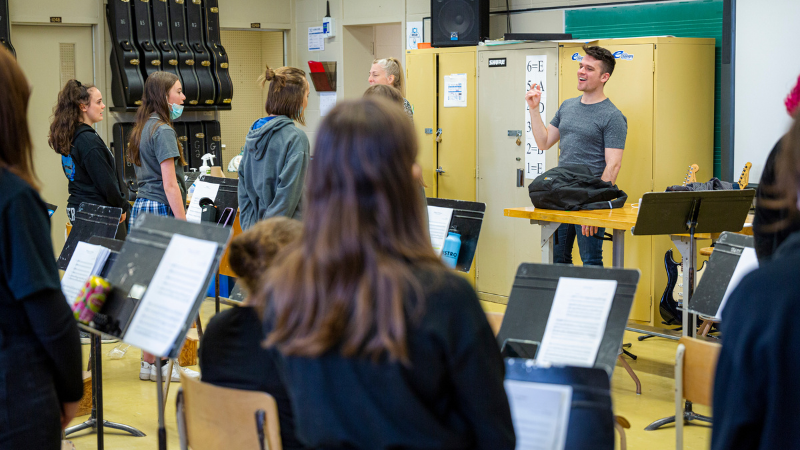 ECONOMIC IMPACT
MAJOR ECONOMIC AND TOURISM SPIN-OFFS
FestiVoix generates major economic and tourism spinoffs every year, establishing itself as a major, proactive contributor to the vitality of its region.
Over $15 million in economic and tourism benefits by 2022
7,400,000 in spending generated by visitors from outside Trois-Rivières and by the FestiVoix in 2019*
2 400 000$ in tourism spending in 2019**
80% of equipment purchases and rentals from local businesses
120 partnerships with local and national companies
More than 18,600 overnight stays generated in the Trois-Rivières region during the event in 2022
A real economic driver for downtown Trois-Rivières , according to local restaurateurs, hoteliers and shopkeepers
Partnerships with 8 local hotels to offer exclusive tourist packages during the festival
Promotion of the region's tourist activities with exclusive discounts on presentation of the FestiVoix passport at more than 40 Mauricie tourist businesses.
*Evaluation by KPMG not taking into account spending generated by local customers (within a 40km radius of Trois-Rivières).
**Spending evaluated by KPMG.